Our product and design specialists are available to assist with your design and ordering process. We will work with you to ensure your order meets required specifications as well as any vision for unique sign designs.
SECTION 1: GENERAL GUIDE FOR SIZING
SECTION 2: SUBSTRATES
SECTION 3: REFLECTIVE MATERIAL
Keep in mind both the content and the construction of your sign
Your choices will depend on:
Where the sign will be used?
What is the size needed?
What is your budget for purchase?
What is your budget for maintenance?
Does the sign need to exhibit certain characteristics?
(e.g., resistance to gnawing animals, bugs, vandalism)
SECTION 1
General Guide for Sizing
TD's, FRD's, and Custom Guide Signs
---
To determine the length of a sign, you need to count the characters of the longest line of your sign:
Each letter, numeral, and space = 1 character
Each vertical arrow = 2 characters.
Each horizontal arrow = 3 characters Do not count end margins.
Now use the sizing chart to find the size of your sign.
---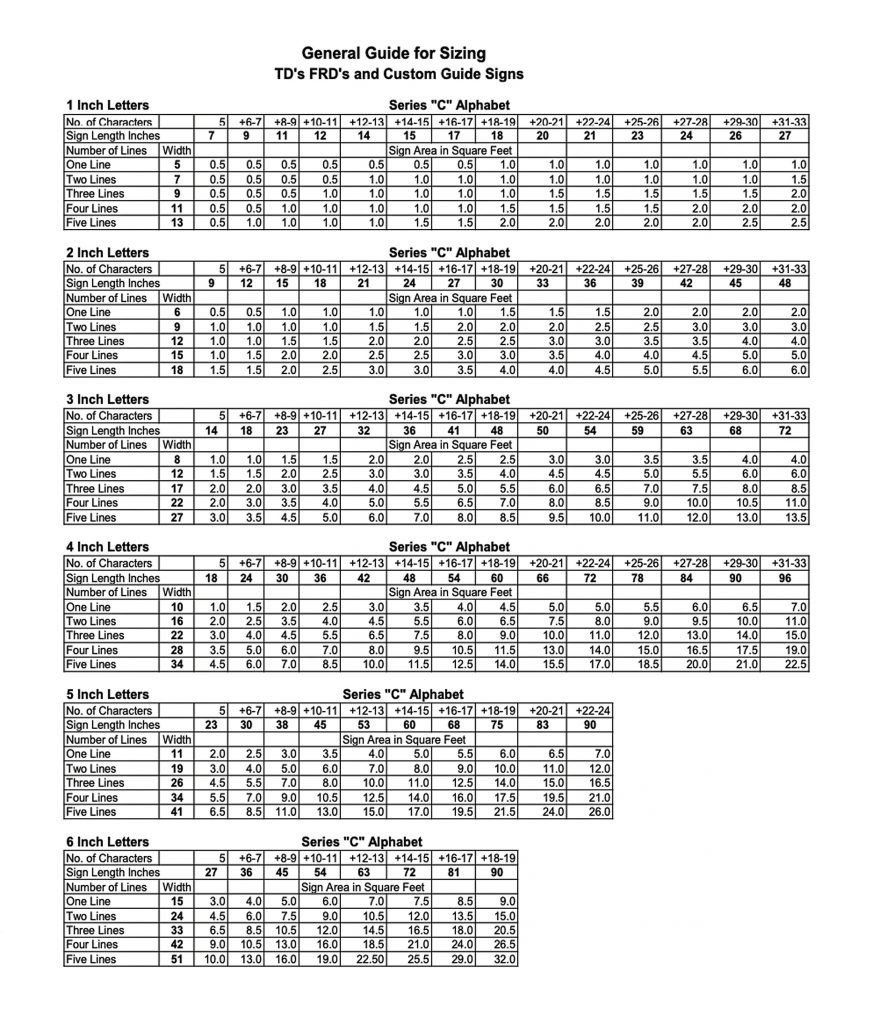 Counting Characters to estimate sign size
To estimate the size and price of your FRD, Guide Sign or TD, you need to know three things:
Number of lines on the sign
The size of letters you want on your sign
The number of characters of the longest line.
FRD sign codes are designated as an FRD-_-_. FRD Stands for Forest Road Designation. The first _ is for the number of lines in the sign you are requesting. A three line sign would thus be an FRD-3-_. The second blank is for the size of letters you need your sign to have. Below is a general guide to help you determine what size letters you need. Thus, a 3 line, 4 inch letter sign would be an FRD-3-4.
Sign Lettering
Letter size is a function of the viewing distance and the amount of time available for viewing. Use the following minimum letter sizes for signs that will be viewed from a moving vehicle.
Maintenance
Level 2, 3, 4, and 5 roads:
Motorized Trails:
20 mph or less 3″ Letters
21-34 MPH 4″ Letters
35-50 MPH 5″ Letters
50+ MPH 6″ Letters

25 MPH or less 2″ Letters
More than 25 MPH 3″ Letters
Hiking Trails (TD's) 1″ Letters
---
SECTION 2
Choose a substrate right for your environment.
Aluminum
One of the most popular substrate choices for smaller (less than 48") signs, aluminum is slightly more expensive than HDO Plywood. While less susceptible to porcupine damage than plywood, it is more easily damaged by bullets and more likely to be stolen by people wishing to recycle the aluminum. Expansion and contraction of aluminum may contribute to early sign failure.
HDO Plywood
High Density Overlay Plywood is a specialty plywood made to withstand extreme weather conditions. The most widely used substrate for Forest Service reflective signs.
MDO Plywood
Medium Density Overlay Plywood is usually routed and painted to produce a lower cost option to redwood or HDO plywood. It is economical, easily maintained, and practical for large routed signs.
Altree™
Coming soon for smaller-size signs, Altree is a composite of wood chips and recycled plastic. It can be either routed and painted or used with reflective sheeting. Environmentally-sensitive, Altree is animal-resistant, very durable in a wide variety of weather conditions, easy to repair, and cost-competitive with HDO plywood.
Red Cedar/White Oak
Red Cedar signage is long-lasting and handsome. These durable signs can be stained or painted. Oak signs are normally reserved for wilderness areas due to the natural look of the wood.
SECTION 3
Our consistent use of standard colors, shapes, lettering, symbols, and messages help motorists and pedestrians recognize signs and react to them quickly when needed.
Reflective Roll-Up Material
P&M Signs is now manufacturing any size roll-up signs. All of our roll-up signs have pockets and ribs. The ribs are ⅜" thick and 1 ½" wide. Our roll- up signs are highly reflective both day and night and will completely outperform most fabric signs used today.
---
Reflective Sheeting Choices
Scotchlite™ reflective sheeting is designed to meet the changing visual requirements of motorists of all ages in today's complex and demanding nighttime roadway environment
3M Scotchlite Diamond Grade Reflective Sheeting The brightest sheeting 3M has ever introduced, it is 3 times brighter than High Intensity and up to 10 times brighter than Engineer Grade. Even after 7 years, Diamond Grade Sheeting is guaranteed to be twice as bright as High Intensity and up to 10 times brighter than Engineer Grade. Now available in fluorescent orange for added brightness in work zones and fluorescent yellow-green for use in school zone, bicycle, and pedestrian applications.
3M Scotchlite High Intensity Prismatic Grade Reflective Sheeting Three times brighter than Engineer Grade, High Intensity sheeting is guaranteed to retain at least 80% of its original specified brightness, even after 10 years. Select high intensity sheeting when atmospheric conditions and other factors indicate a need for additional reflectorization. This grade is used for most Forest Service signs.
3M Anti-Graffiti Film This film is overlaid over the sheeting described above to help protect the signs from weather damage and also to protect the sign face from being destroyed by vandalism with graffiti paints. All that is needed to clean the paint off the film is a paint thinner-solvent.